Romsons
Epidural Catheter - (GS 2018)
- Caja de sistema de drenaje sellado bajo el agua.
- Disponible en diferentes capacidades
- Fácil para leer la graduación en el volumen de drenaje.
- Nivel inicial claramente marcado asegura el sellado bajo el agua.
- Escribir sobre la instalación en el monitoreo del volumen de drenaje.
- Puerto de succión separado es proporcionado por conexión con la unidad de succión.
- Resistente a retorcimiento, tubería de grueso calibre facilidad flujo no restringido.
- Unidad es proporcionada con ganchos de metal y base para el piso.
- Conexión extra larga hacia el catéter.
- Unidad completa estéril y empacado en caja. Caja de 1/caja maestra de 10.
- Disponible en los siguientes modelos.
ROMO SEAL - 2008
GS - 5020
- Unidad compacta de doble cámara tiene 200 ml. De capacidad haciendo esto adecuado para todos procedimientos tráxicos y cardiacos.



ROMO SEAL - 1200
GS - 5131

- Unidad cámara única con 1200 ml de capacidad.
- Presión de válvula de escape patentado diseñado positivo.
- Ganchos especialmente diseñado de metal es adecuado para colgar al igual que la base del piso.



ROMO SEAL - 500
GS - 5032
- Single chamber compact unit has 500 ml capacity.
- Suitable for paediatric use.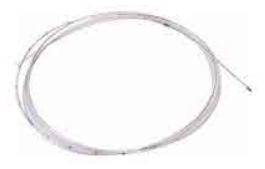 Epidural Catheter - (GS 2018)
- Epidural catheter is specially designed for short term & long term continuous anaesthesia & pain therapy.

- Catheter is made from unique plasticizer free, latex free formulation of polymer with excellent biocompatibility.
- Flexible & atraumatic soft tip with three lateral eyes reduces the risk of complications.
- Catheter is printed to determine the depth of insertion &accurate placement of catheter in the epidural space.
- Crystal clear catheter with radio opaque line provides clear visualiztion of blood/CSF.
- Luer lock twist connector is supplied for easy & safe connection.


Sizes:
NG 16,18

- Sterille, individually packed in peelable Tray.
- Box of 10.
- Master Box of 500.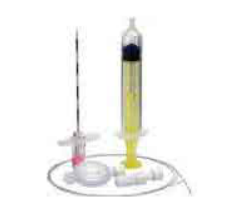 Epidural Kit - (GS 2026)
Epidural Catheter.
Closed round tip with three lateral eyes.
- Epidural/Touhy Needle.
- Tuohy type needle is provided with clear depth marking for accurate insertion depth reading..
- Poloshed inner bevel edge minimizes the risk of catheter shearing.
- LOR Syringe.
- Specially designed LOR syringe is provided for clear identification of epidural space.
- Romsons LOR syringe is suitable for air & saline technique.
- Threading assist guide.
- Fit securely into the needle & assist easy advancement of catheter.
- Detachable Connector.
- Separate twist lock connector is provided for convenience of the procedure.
- Hydrophobic 0.2 micron filter is provided for additional safety & control against microbial infections.
Sizes & Packing
- Sizes Passes through NG 16,18
- Sterile, individually packed in peelable Tray.
- Box of 10.
- Master Box of 500.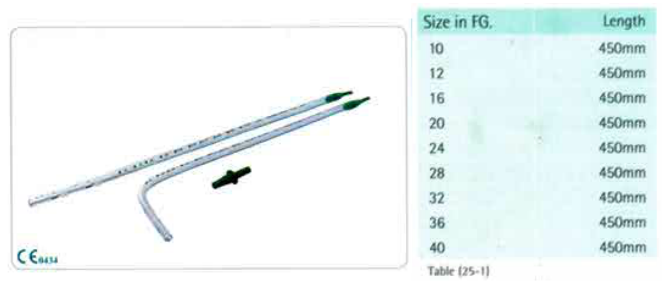 Thoracic Drainage Catheters
Thoracic drainage catheters are most suitable for post operative drainage after cardio - thoracic and thoracic surgery

Distal end is open white supper smooth large eyes to maximise the drainage from the chest

Proximal end is fitted with specially designed tepared tongue to provide excellent forceps grip and montraumatic insertion

Cathers are marked at every 2 cm from the last eye to ascertain the depth of placement

Packed with matching size loose connectoy which facilitates easy connectios to drainage system

Sterile ready for use

Size: See table (25-1)

Box of 20/Master box of 200

Available in following version

Chest Drainage Catheter Straight
GS 5010
Medium soft catheters is suitable for intercostal drainage

Provided with dark green line for indentification


Flexo Cath
GS 5034
Extra soft catheter is gentle to the body tissues and is most suitable for thoracic drainage

Provided with light green line for identification
Chest Drainage Catheter - rigth angle
GS 5011
Specially designed catheter for thoracic drainage from the deeper sites of pleural cavity

Sizes: FG-12, 16, 20, 24, 28, ET 32.

Box of 10/Master box of 100.
Thoracic Drainage Catheters
GS7052
Uro Track Kill is designed for easy and safe insertion and prolonged inplantation of ureteral stent.

Sterile individually packed in peelable pack

Box of 10/Master box of 100.
Kit of:
Double J Stent
Made of superior grade polyuretheme material

Closed end distral tip facilitates mon traumatic and easy insertion


Pusher
Suitable size of the pusher is provided for safe and exact positiong


Guidewire
Suitable size P.T.F.E. coated guide wire with soft tip is supplied to facilitate the easy glide of the stent on guide wire
Cath Clanp 2Nos
Clamp are provided for easy clamping of the stent.
Urotrac
GS7050
D.J. Stent used for temporary and prolonged internal drainage from ureteropelvic juntion to the bladder

Made of superior grade polyretheme material

Complete radio opaque stent for x-ray visualization

Back line on the stent indicates the directions of coil after withdrawl of guidewire

Marking at every cm and double marking at every 5cm

Implant tested white an extremely low encrustation tendency

Stent white pusher available in a double sterile peelable pack

Avaibla in two version open end close end

Box of 10/Master box of 100.